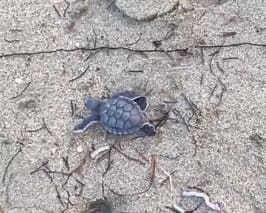 The Sainte-Croix environmental association takes stock of turtles
As the leatherback turtle nesting season is about to begin in St. Croix, the Environmental Association of St. Croix (SEA) is sharing information on the first report covering the results of the turtle season of the last year in the Southgate Coastal Preserve. There are three species of turtles that nest in Southgate, and depending on the species, there is good news and bad news.
For the first time since SEA surveyed this beach, it was in 2005, not a single leatherback turtle has nestled in Southgate. This is part of a regional trend of declining numbers of leatherback turtles, particularly in Sainte-Croix.
SEA found eight hawksbill turtle nests, which is also low, but not as bad as that of leatherback turtles.
Green turtles, on the other hand, have had a great year, with 40 nests in Southgate alone. Other turtle monitoring projects have found large numbers of green turtle nests.
Everyone is welcome to attend the turtle season kickoff event scheduled from 9 a.m. to 11 a.m. on March 21 at Southgate Beach. This is a great opportunity to learn more about sea turtles and the St. Croix groups that work to protect them. There will be activities for all ages, and there will be beach clean-up, so it will be safe and clean for turtles and humans.