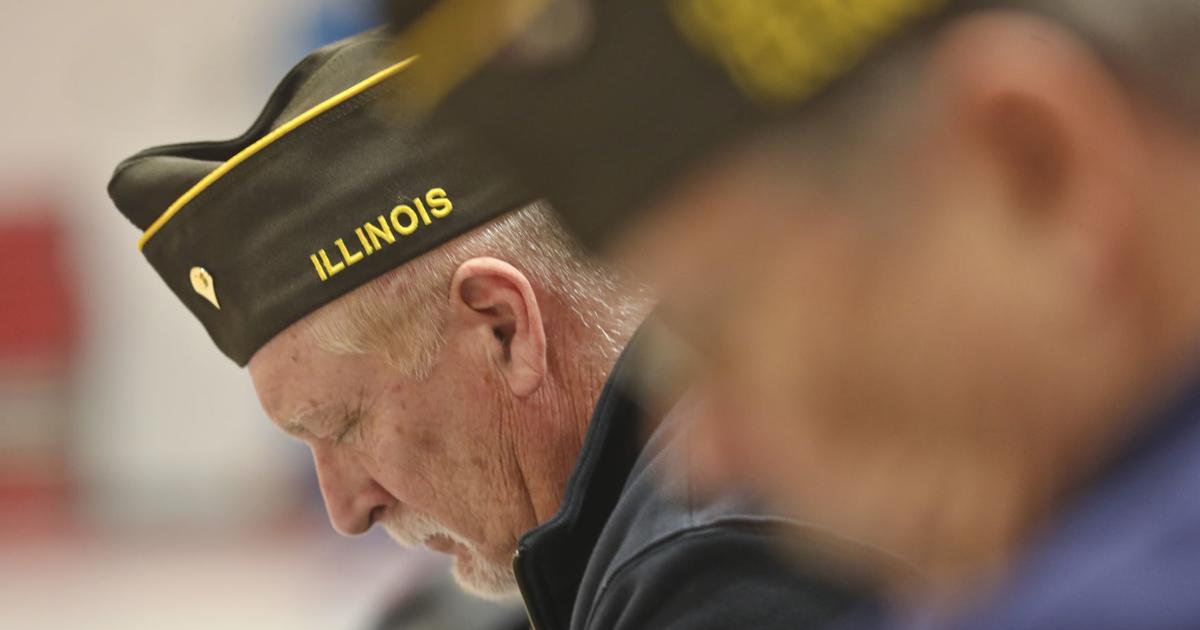 Lutheran School Association Commemorates Veterans Day | Education
DECATUR – There's something particularly haunting about "Taps" played by two musicians, one echoing the other.
Originally conceived as a bugle call to signal the end of the day, "Taps" is often used at military funerals and events commemorating veterans, as was the case Monday at the Day assembly veterans of the Lutheran School Association.
Music teacher Evan Bosaw and high school student Alexa Dillow performed "Taps" at the end of the event, across the gymnasium, with Bosaw handling the echo and the assembled students, parents and guests standing in silence.
"Thank you so much for coming out and allowing us to celebrate Veterans Day with you," elementary school principal Joel Witt said, acknowledging the inclement weather and the extra effort people had to make to get there. assist.
He asked the veterans present to stand up and be recognized.
"Raise your hand and enlist in military service was a brave and selfless act," Witt said. "It was one that came with no guarantee of where you would be assigned, if and where you would deploy and, in some cases, whether you would return home in one piece or not at all. While we should always remain grateful, today we are making a special effort to stop our normal routines and show our thanks and gratitude to those who have served and those who continue to serve.
With patriotic songs from elementary school students and excerpts from essays written by middle and high school students, the school community did just that. Students in grades 6 through 12 had written essays on "What Makes America Great" for the annual Patriot's Pen contest sponsored by veterans of foreign wars. Many students spoke of the freedoms guaranteed to Americans, especially the freedom to attend a parochial school and live their faith without fear of reprisal.
Others spoke of the natural and man-made beauty of the country's parks and monuments.
"We built some and God built some," said sixth-grader Adam Stark. "Even if we weren't here, America would still be beautiful because God made it."
Adam, 11, said his family lives in California and visited the Grand Canyon, which left a lasting impression on him.
Jennifer Thomas, a language arts teacher, hosts the annual Veterans Day event and this year invited VFW Post 99 representatives to speak about the organization.
Post Commander Joe May said the organization was founded to specifically serve veterans who served in wars overseas and their families. It is the oldest and largest veterans organization, and veterans must be U.S. citizens, have served in the armed forces with honorable discharges, and have served in a war, campaign, or expedition on any soil abroad or in hostile waters.
"Our service is about making sure veterans get what they need," May said. Sometimes veterans don't realize or don't know how to access the benefits they are entitled to, and VFW helps them. "We're doing our best to accelerate the things that they need, to guide them in the right direction, to get those things to them, because they so deserve those things."
The program ended with a prayer from athletic director Kurt Younghouse.
"We ask that your protective arms continue to envelop all citizens of this nation," he prayed. "We ask that you calm our hearts that fear the unknown and help us remember the promise that you are always with us and will never forsake us."
Contact Valerie Wells at (217) 421-7982. Follow her on Twitter: @modgirlreporter