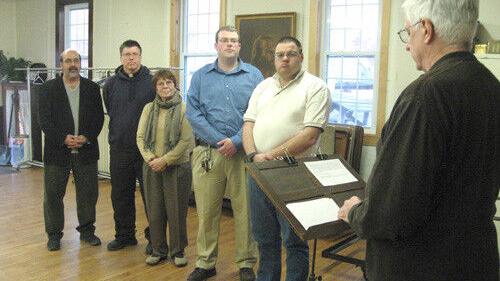 Hoosick Area Church Association Celebrates Successful Service | Local News
[ad_1]
Saturday 23 March 2013
HOOSICK FALLS, NY – Food for the needy, free tax preparation, school supplies for students – these are just a few of the ongoing service activities of the Hoosick Area Church Association.
The HACA held its annual meeting on Sunday March 17 at the First Baptist Church in Hoosick Falls. It was time to review accomplishments, elect leaders, and plan for the future.
"We seek to fulfill HACA's mission of sharing the gospel of Jesus Christ in word and deed by comprehensively responding to the needs of the Hoosick area in a way that honors and strengthens the individual, the family and the community, "Dianne Hosterman wrote in her annual report message. A deacon at West Hoosick Baptist Church and a long-time HACA volunteer, Hosterman was selected in January to fill the newly created position of executive director.
HACA works through delegated members chosen from each congregation. It meets quarterly and the meetings are held at the HACA Ministry Center. Member congregations are All Saints Episcopal, Cornerstone Fellowship, First United Presbyterian, Immaculate Conception, West Hoosick Baptist, Community Alliance, First Baptist of Hoosick Falls, Hoosick Baptist, and St. Mark's Episcopal.
In 2012, HACA paid off the 30-year mortgage on its Ministry Center at 26 John Street in Hoosick Falls. The building was purchased in December 2008. According to the annual report, this facility is valued at nearly $ 79,000. It was the old Falls Federal Credit Union building. A "mortgage shredding" open house was held last September.
"I wasn't planning on spending 30 years with (the mortgage). My goal was five years. I wasn't sure that would happen," Hosterman said. "I was one of those who really pushed this in the first place; we rented for a year before buying it. And I think if I had known that soon after taking out a mortgage for the building the economy was going to collapse, we would have been a little less … not in such a rush to do that. "
The pantry at the Center du Ministère is open Monday and Friday from 10 a.m. to 12 p.m. and Wednesday evenings from 6.30 p.m. to 8 p.m.
According to the annual report, the HACA food cupboard served a total of 4,697 people in 2012, up from 4,585 in 2011. The group also distributed 471 Thanksgiving baskets and 429 Christmas baskets in 2012.
"It's been busy," she said of the food cupboard. "It's been stable."
Hosterman noted that monthly food orders from the regional food bank cost between $ 1,500 and $ 2,000 for discounted and free food. An order received by the HACA the Friday before the annual meeting was for 4,000 pounds.
Another aspect of HACA's food program is delivery to the elderly confined to the house: "Awareness of the elderly… (is) wonderful awareness. This is a lot of work, "she said. "The Lions took this as a project."
Lion Bridget Pierce, Former HACA Volunteer of the Year, is leading this effort. "She has these Lions running around delivering all kinds of packages," Hosterman said.
Some food and personal care products are more specialized than for the general population, including sugar-free foods for diabetics. "I remember my dad saying when he was growing up he said he really liked his 'tasty' food, she said." They go through barbecue sauce like crazy. "
The group laughed at this remark.
Pierce does a lot of shopping because the regional food bank does not provide food for diabetics. "So they did a great job there," Hosterman said.
There are between 20 and 22 people who are served in this way, and it must be documented that they cannot go out, she said.
HACA President Michael Benoit, pastor of Cornerstone Fellowship, Food Program, said: "It takes most of the time, because … it always grows. It never stops."
Also at the Ministry Center, the HACA runs its volunteer tax assistance program from February to April. This has increased since AARP phased out its in-town program for this service. In 2012, VITA prepared more than 225 statements for people from Hoosick Falls to Watervliet.
Current volunteers have received training from the Internal Revenue Service – training that takes approximately 40 hours. Next year, the HACA will seek more volunteers for the program, although it is too late to accept and train more for its year, Hosterman said.
"We are saving our community a lot of money," said Benoit.
At Benoit's suggestion, those in attendance applauded Hosterman.
Other programs that HACA is involved in include the Taste of Hoosick; a spiritual program of Lenten Lunches during Lent; a Back to School Boost, in which last year over 50 backpacks were packed for students and boxes of school supplies were delivered to Hoosick Falls Central School and St. Mary's Catholic School ; an ecumenical Thanksgiving service; and an annual banquet.
One of the new initiatives planned is to be part of local emergency management efforts, specifically helping people to shelter in an emergency.
"We have three churches in the village that have propane kitchens," Benoit said. "So if there is a long term problem, (ministers or deacons) can open the churches and make sure there is more security here and we can cook the food as it will go bad or heat the water. to heat the coffee and have communion. "
After presenting the annual report, the group elected a roster of officers, essentially the same officers who had started the meeting. The Reverend Ken Webster, pastor of the First Baptist Church in Hoosick Falls, swore them in.
Benoit will continue as president; the Reverend Thomas Zelker, pastor of Immaculate Conception Church in Hoosick Falls and St. Patrick's Church in Cambridge, vice-president; Greg Fox of Cornerstone Fellowship, secretary; Charles Starr of the Immaculate Conception Church, Treasurer. Starr was appointed in January to complete Hosterman's tenure following her appointment as executive director of the HACA.
Contact Mark Rondeau at [email protected] Follow him on Twitter @Banner_Religion
[ad_2]