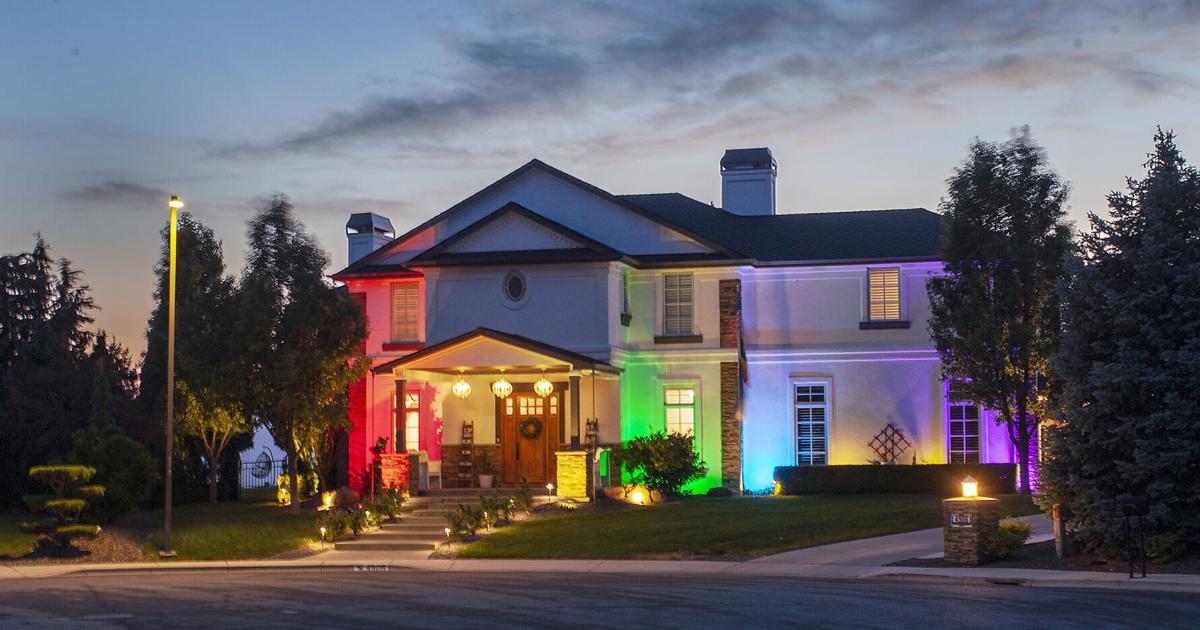 Homeowners Association Asks Idaho Man To Remove Gay Pride Display | Local
BOISE — The Jordan Hall home first appears briefly between the trees on the road up the Quail Ridge subdivision in Boise.
At night, the Hall's Pride rainbow lights look dim from the road because of the bright white porch lights. He put up his display towards the end of Pride Month in June – inspired by the White House Pride display, which he saw when he lived in DC
But on July 8, his homeowners association sent a letter giving him 48 hours to turn off the lights.
"I always felt safe at home, until last Friday," Hall said Tuesday. "They targeted me at home and that's the hardest part. … You have now made it personal.
The association argues that posting is a "harmful or undesirable act" and is dangerous to drivers going up the hill, according to the letter. He also said the lights violate covenants, conditions and restrictions – known as CC&R – because there are only certain colors a house can have in the subdivision.
The HOA alleged that Hall altered "the exterior color of your home with colored lights without first obtaining ACC approval," citing a section of the rules that requires approval of additional buildings, fencing, walls, improvements or structural obstructions.
In an email Wednesday, Quail Ridge Neighborhood Association President Jason Schauer said the request was not based on any discriminatory or improper grounds.
Schauer, who is also involved with the CC&R committee, said CC&R "governs the exterior appearance" of homes in the subdivision.
"QRNA believes Mr. Hall's light display is materially different from other Quail Ridge homes due to its full color light display (front and back) and has politely requested that it be removed," Schauer said.
Hall said they treat his lights as if he were painting his house a different color, but the lights are temporary and only visible at night. There are no rules he breaks, he said.
"To my knowledge, no homeowner has ever lit their home the way you have, and it has never been permitted," Schauer wrote to Hall on July 8. the other houses in Quail Ridge.
However, the HOA did not respond in the same way to other homes with lights, Hall said. Hall has installed Christmas lights, and one house in the housing development regularly makes headlines for the thousands of LED lights installed for Christmas. And another house, with red lights, never heard from the HOA about the posting violating the rules.
"His lights are beautiful," said neighbor Dusty Trail.
"It (Hall's rainbow light display) doesn't cause any problems," she said.
Hall, who is from Los Angeles, moved to Boise in May 2020. He spent six years on active duty during the era of "don't ask, don't tell," a controversial policy that allowed gay people to serve in the soldiers than if they were locked up.
Although he said he probably knew he was gay earlier, it "still took a long time." For years he lived in the closet.
"It just got better," Hall said, sitting in a black armchair in his house, wearing a rainbow watch. "I hate to use that cliche, but it's getting better."
Now he lives a life without repression. Being outside, he says, is not thinking about being outside. He doesn't have to tell people he's gay. He went about his daily business and could hold a partner's hand.
"I think dating is just being like everyone else," Hall said.
On his first visit to Boise, he saw a moderate, progressive city. He was "stunned" by the amount of Pride flags on a previous visit to the area in June.
He's had a lot of support in Boise, some of which brings him to tears. Hall said he was able to hand out pride flags at places he frequented, and establishments often displayed them.
Hall felt as accepted here as he did in Los Angeles or Washington, D.C.
In his backyard, he hosted Pride parties and set up Pride displays, he said, scrolling his iPhone for pictures of balloons.
In 2021, the president of HOA attended his pride party as a neighbor.
However, Hall said they refused to even acknowledge it was a pride display, repeatedly referring to it as colored or multicolored lights. In Wednesday's email to the Idaho Press, Schauer said the lights were in "pride colors."
Hall said Schauer thought he could say he went to the Pride party as an excuse.
"Actions speak louder than words," Hall said.
Idaho is a conservative state. But Hall said true conservatives believe in free speech. It's a slippery slope not being able to shine your pride at other rights being on the chopping block, he said.
And his attorney, former Lieutenant Governor David Leroy, believes it infringes on his right to free speech.
"Any suggestion that one or more neighbors or the Association as an entity may deem a gay pride display on Jordan's own home to be a sufficient 'annoyance or nuisance' or a 'harmful or undesirable act 'For them that their opinion will allow the suppression of Jordan's protected and supreme political opinions and rights of association seems extremely ill-founded in today's world,' Leroy wrote in a July 8 letter to the HOA.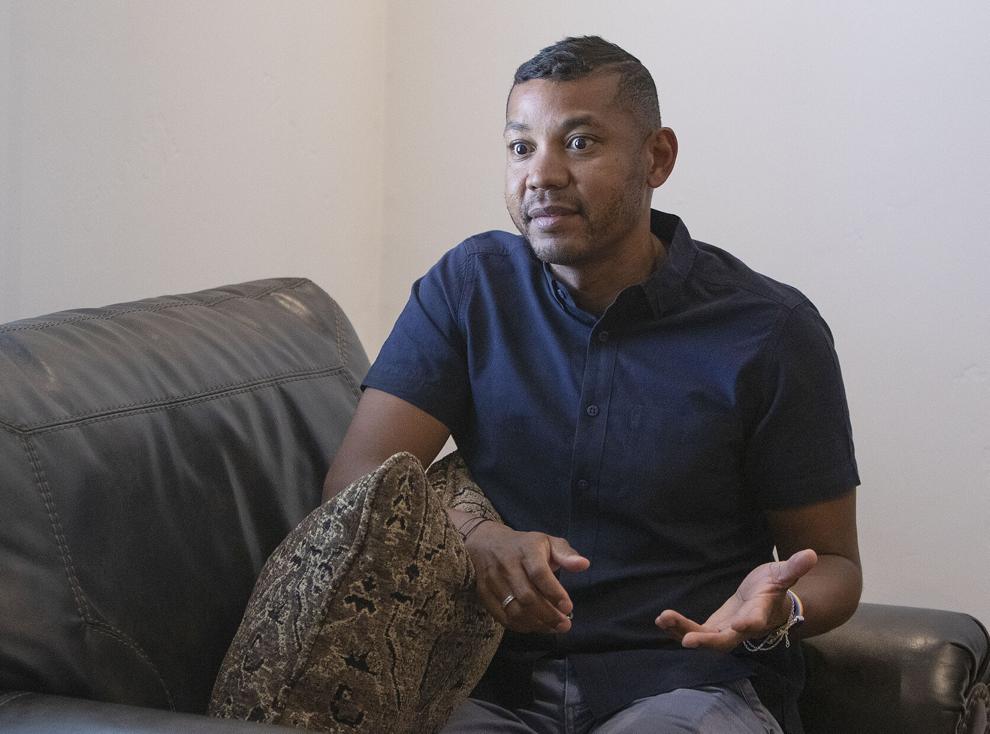 Pride and HOA in IdahoThe result
On July 11, the HOA responded to Hall. He informed him of a telephone hearing on August 12, to determine whether he had broken the rules. Hall and Schauer negotiated a good time and date to have the hearing.
In the meantime, Hall intends to maintain those lights. In the end, he can file a complaint.
"They don't intimidate me in that regard. I feel bad for the person who can't defend themselves. … It's time to stand up," Hall said. "It's not being conservative, it's being a homophobic tyrant."
The people involved may not be homophobic, but their actions are, Hall said.
Hall is still scared, however. He's a rule follower and he wants all of that to go away. He doesn't want to be a martyr, though he hopes the attention will have an effect. He stopped talking to take a call from State Sen. Melissa Wintrow, D-Boise, who overheard a neighbor talking about the issue.
"All are welcome in our community," Wintrow told The Idaho Press on Wednesday. "We want you to be who you are."
The lights were meant to be temporary and he intended to remove them. But when he received the letter, things changed. But still, he said the situation would have been different if someone had just knocked on his door and talked to him.
"The most difficult part of the situation is when do you gather the courage to move forward? Hall cried. " I do not know where it is. I don't have that limit yet. I just think a little attention, hopefully that will get them back. I don't want to fight that in 2022. It's just crazy.