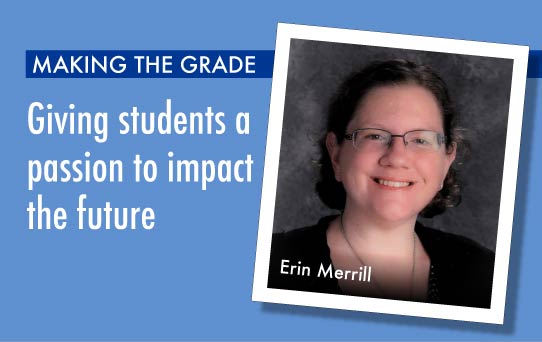 Erin Merrill Named Teacher of the Year by the Virginia Middle School Association
Provided by Prince William County Schools (PWCS)
Erin Merrill is United States history and civics teacher and head of the social studies department in Pennington Traditionathe School. She was selected as Virginia Middle School Association (VMSA) "Master's price in the middle" teacher of the year. It is Merrillin the seventh year of teaching in the public schools of Prince William County. She believes middle school education, situated between the foundational skills learned at the elementary level and the rigor of high school, is uniquely positioned to "turn around and be at the forefront of pilot programs and educational philosophies." Known for innovating in its practices, Merrill takes full advantage of this opportunity.
"Erin Merrill is an engaging civics teacher who incorporates real-life situations into her teaching," said Pennington Reading Teacher Donna Notarantonio. "His passion for teaching creates enthusiastic learners. She models what she teaches her students by being actively involved in the development of government policies and procedures at the county and state levels. Her commitment and love for teaching civics contribute to forming students who are politically engaged but open to understanding multiple points of view. »
VMSA Recognition
VMSA celebrates educator success by recognizing grades 6-8 teachers who serve as instructional leaders and role models, seek social equity and program access, and actively support a developmentally appropriate school climate, among other criteria. Merrill will receive his award at the VMSA conference on November 1 at James Madison University.
Because she always reinvents what and how she teach, a peek into Merrill's Classroom it's rarely the same like the last. On a given day youclear to see students discuss with Merrill how the story connect to the news; vseat Super hero represent the principlethe government or cabinet officials, Fform new political parties to address issues of concern to them; or work together to sort through primary sources to answer questions such as "Was it Psuccessful ban? »
"Every time I'm in Ms. Merrill's classroom, I see the depth of her planning and teaching, the impact she has on student knowledge and engagement, and I see the development of a love of learning in every student," said Principal Pennington. Amanda McCulla. "Ms. Merrill really brings learning to life for her students – it's amazing!"
technology in the classroom
The introduction of new technologies is one of the Merrill's privileged means to engage and innovate. In 2017, Merrill received a virtual reality (VR) headset as a gift. She immediately started researching apps to decide if she could use them as a relevant teaching tool. His first lesson included an application on the trench experience of World War I. From there, she incorporated the headsets repeatedly to expand her students' experiences with the classroom program. She even appeared in a Article from the "WeAreTeachers" website on the integration of VR headsets.
Merrill also aembraceD the benefits of gamification his Classroom. "We played through simulations on mission-nous.orgplayed games to reinforce the content on icivics.orgproduced campaign advertisements on green screens and made comic strips using PowToons and Storyboard That!", said Merrill.
"I believe that my best experiences as a middle school teacher come from when students practice what they have learned, showing maturity and initiative.. At Pennington, we wonder how our students see themselves after they leave. My students will tell you: they are the future."